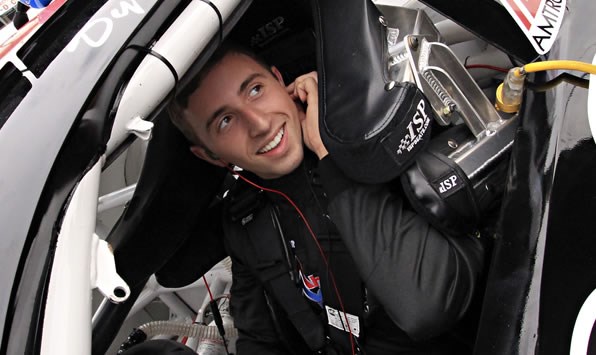 About Dylan:
Nickname:
Smoky Mountain Thunder
Height:
5'10"
Weight:
145lbs
Birth Date:
5/22/95
Hometown:
Sevierville, TN
Racing Since:
2003
Team:
Presnell Motorsports
Charity:
Alzheimer's Association
Hobbies:
Riding Dirt Bikes, Swimming, Jet
Skiing, Video games
Member:
Pathways Church
Dylan Presnell may be young, but his passion for racing and for winning is that of a veteran twice his age. With 17 Championships, 2 Rookie of the Year Honors and 16 track records across the country, he has proven himself a force to be reckoned with. His racing career began at the young age of 7 when he started racing quarter midgets. Mini cups and Bandoleros followed with great successes in both including becoming the first driver to ever win dual championships in the same season at the famed Music City Motorplex in Nashville, Tn. He followed those up with victories in both the Legends and the Allison Legacy Series. NASCAR legend Donnie Allison recognized Dylan's abilities and as his driving coach mentored him to become one of the touring series youngest winners and "Rookie of the Year".
At 13 he moved in to Late Models and won for the first time in just his second race out and added 2 more wins to his Rookie season in the Late Model stock division. He added another victory in his Super Late Model car his very first time out in the lighter, faster car. The next year brought 3 more victories, several poles and top 5 finishes in the late model division. In 2011 Dylan took his career to the next level by moving into the NASCAR K&N Pro East Series where he ran in 6 races and finished in the Top 10 in 4 of them including the "Monster Mile" at Dover. The 2012 NASCAR K&N season was full of new experiences, including 2 more top tens and some pretty scary wrecks, including the car ending upside down and catching on fire at Rockingham.
In 2013 Dylan was busy starting college where he was on the Dean's List the first half of the year, and on the President's List (4.0 GPA) the second half. While putting his education first, Dylan still found time for his true passion and raced in the NASCAR K&N East Series, first at New Hampshire where he finished 5th and then went on to race at Dover International and finished in 10th position. Dylan is attending college at the University of Tennessee and plans to continue to race in select races while finishing his education. His dream still remains to someday race in the NASCAR Sprint Cup Series.
Find me on: